Vasilchikov (1-st)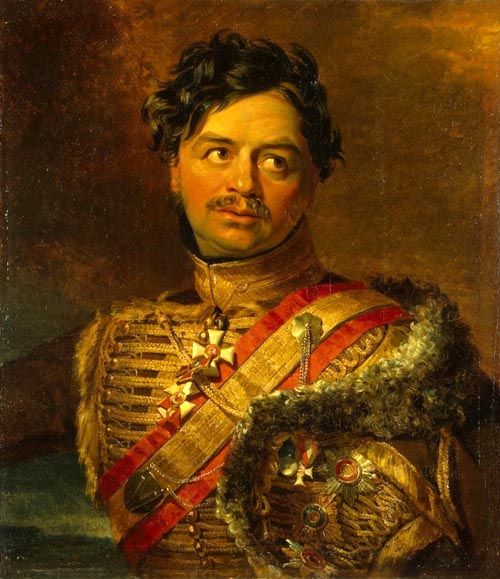 Illarion Vasilievich Vasilchikov (1-st)
(1776 - 1847)
Count (1831 ), Prince (1839 ), Russian general and statesman.
He began his military service as a non-comissioned officer of the Life-Guard Horse regiment in 1792, in 1793 he was promoted to the rank of cornet. In 1799 he became a Gentleman in Attendance (Kamerger).
After ascending the throne of Alexander I he was promoted in the rank of Major-Genera and General-Aide-de-Camp.
In 1803 he was the commander of the Akhtirsky Hussar regiment. In 1807 he took part in the battles at Sorotsk and Pultusk, and also took part in the campaigns of 1812-1814.
In the beginning of the war of 1812 he was in rear-guard of the 2-nd Army of Bagration till its joining the 1-st Army.
He took part in the Borodino battle, was wounded seriously , got the rank of General-Lieutenant and was appointed the commander of the 4-th Cavarly Corps.
He also took part in the battles at Tarutino and Vyazma. In 1813 he participated in the battles at Bautzen, Caiserswalde, Kazbach and Leipzig. He pursued the Frensh troops till the Rhine. At Kazbach the commanded all Silesian Cavalry , made a brave attack and gained the victory.
In 1814 he distinguished himself in the battles at Brienne, Monmirail, Craonne, Laonne and Fure-Champenoise. In 1814 he was appointed the commander the the Guard Light Cavalry, and in 1817 he became the commander of the whole Guard Corps.
After making the "Paris Peace" he was sent to Moscow with the message about it.
After the riot in the Life-Guard Semenovsky regiment (1820) he asked for dismissal from the post of the commander of the Guard Corps and was appointed a member of the State Council.
In 1833 he was nominated the General-Inspector of Cavalry, and in 1838 he became the Chairman of the State Council and the Committee of Ministers.
Vasilchikov was known as a reasonable, thuthful, disinterested man and was very independent in his views, Alexander I and Nickolay I both respected him very much.
---