Davydov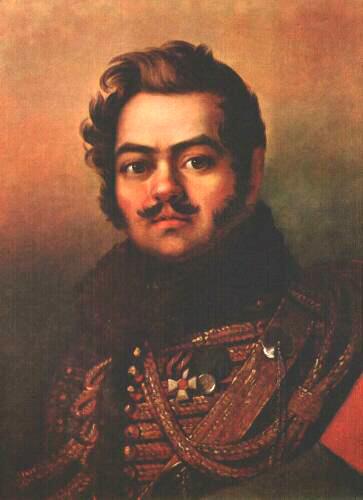 Denis Vasilievich Davydov
(1784-1839)
Denis Vasilievich Davydov - Russian poet and military writer, a hero of the war of 1812, one of the initiators of partisan movement.
He was born in a noble family in Moscow. He was brought up among oppositional officers. General A.P.Ermolov and Decembrist V.L.Davydov were his cousins. Davydov was a member of their literary club "Arzamas" and was in friendly relation with many of decembrists, but he didn't belive in the success of their political plans and didn't join their secret society, thought they tried to draw him in many times.
Davydov became well-known in 1803, when his political fables "Head And Feet", "River And Lake" and a satire "Dream" were spreaded over Russia in hadrwriting. They were very free-thinking and as decembrists said "favoured the development of liberal way thinking". For these verses that were considered as "revolting" by officials, he was trasferred from the Horse Guard regiment to a remoted hussar regiment based in Kiev gubernia (province).
In the new surroundings Davydov from political satire turned to singing the bold and rakish hussar customs. In his best verses the patriotic thene was strongly pronounced: the main lyrical personage of his songs and verses with some autobiographical features is a "singer-hero", brave fine swordsman, hussar full of courage and fortitude who always is ready to "fight for Fatherland again".
In 1807 Davydov took part in the war against Napoleon as an Aide-de-Camp of Bagration and distinguished himself many times. He participated in the battle at Preisish-Elou. After this campaign he fought in Finland (1808-1809); and in 1809-1810 he took part in the Russian-Turkish war.
In the war of 1812 Davydov was a distinguished organizer of partisan operations in the enemy rear. At first his detachment consisted of 130 cavalrymen but afterwards it became much bigger.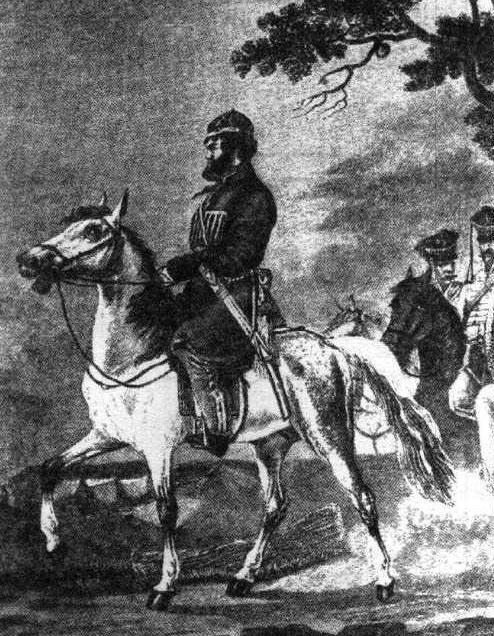 D.Davidov in 1812
Davydov's detachment distinguished itself at Liakhovo on October,28,1812 (joining the partisan detachments of Figner, Seslavin, Orlov-Denisov and capturing about 2 thousands of French), at Krasnoe at November,4 (seizure a big transport and captives) ; the defeat of a Cavalry Division at Kopis on November,9; seizure of big reserves of food and ammunition at Belinichy on November,14; the capture of Grodno on December,9 .
In 1813 Davydov took part in the defeat of Saxonians at Kalish and with his advanced detachment captured a suburb of Dresden.
In 1827 Davydov took part in the Russian-Persian war.
All activities of davidov who was true to Suvorov's traditions resisted the official military-bureaucratic system. Because of this his military career was unsuccessful in future, and though his views were rather moderate he was still reputed a free-thinker and was constantly without promoting.
Davydov is the author of many books of military history. In 1821 he published the book "The Experience Of Partisan Operations". In 1832 he published his collected verses with his very interesting autobiography.
In the same year Davydov retired in the rank of Lieutenant-General and lived in his village. He continued to write verses and wrote some amorous songs and the much-talked-off "Modern Song" (1836) in that he scoffed at the rear soldiery and ostentatious liberalism of the nobiliary salons of that time.
Denis Davydov died suddenly on October, 23, 1839.
---